I posted this on the Geocaching Ireland Facebook page a few days ago and there's been some interest - and also a suggestion that I post it here (slightly modified as, in the original post I was just considering going - I've now booked my accomodation and a place on a sailing for the morning of June 2nd).
In early summer of 2009 I organised a visit to Skomer Island in Pembrokeshire, South Wales for a group of South Wales Geocachers to meet up, have fun and also to go to see the wildlife, and especially to go to see the puffins who nest there at that time of year. I even created a Puffin Geocoin to mark the occasion and we had an event cache in a nearby inn afterwords which was open to anyone. It was a spectacularly memorable day all round.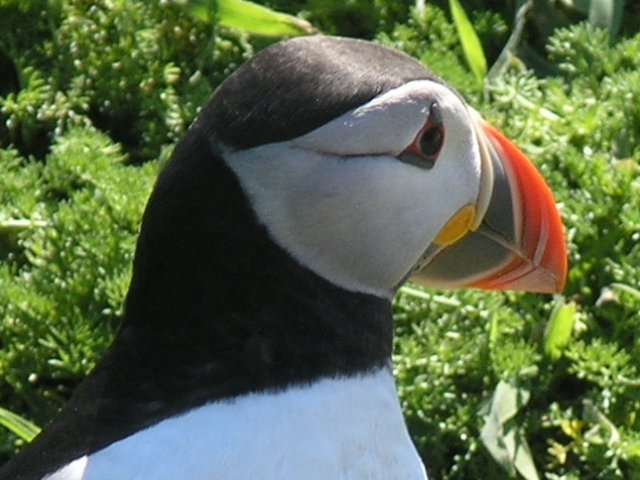 I've now decided to go to Skellig Island on the south west coast of Co. Kerry early this summer, a location that for years has interested me not just because of the wildlife but also its history.
Timing is crucial to catch the puffins at their best – after some research, I found that the last weekend in May or first in June is ideal to see the birds bringing in beak loads of krill for the newly hatched young. These are really fearless little birds who will scarsely move out of your way as you approach them. You won't need a zoom lens to get some spectacular close-up photos of these unusual looking birds.
Cost is definitely a factor for Skellig – a number of companies operate small boats to the island. Late may is out of tourist season so slightly cheaper, but the round trip costs about €40 per person and of course these sailings are weather dependant too and most, like me will probably be spending a similar amount in fuel just to get there and back home. I have booked a crossing with
http://www.skelligstrips.com/
Fauna is very similar to what I saw on Skomer – Manx Sheerwaters and Puffins abound at that time of year and there's a strong possibility of seeing seals or possibly even dolphins.
Flora – I'm not sure what you can expect on Skellig, to be honest. On Skomer it was coming to the end of the bluebell season and large stretches of the island was covered in a carpet of purple, but Skellig's geography is quite different to Skomer.
History – you'll see one of the earliest Christian sites in Ireland and there's still a lot to see of the ruins of the monastary today including the beehive huts in which the monks lived.
There are no caches on Skellig and I strongly suspect there will not be any in the future for the same reason as was on Skomer due to the delicate balance of nature. For this reason, if this trip goes ahead and there are a number interested in joining me I shall set up an event cache in a nearby mainland pub the afternoon/evening after the island visit (there are a number of contenders that look good for a drink/meal) which would be open to all and I shall attempt to place an Earthcache on the island (by no means guaranteed of course). Plus, there are a number of existing caches in the surrounding area too.
The big difference with Skellig is that you can pre-book a crossing and I suggest doing so sooner rahter than later if you intend coming. For Skomer it was first come first served and with the strict limit of only 250 people allowed on the island a day, the crossings would long have sold out before the first crossing at 10am. I slept in a tent the night before in a camping site right next to where the boat sailed from and arrived at 7am at the boat and there were already over 50 people ahead of me in the queue – by coincidence most of the Geocaching crew arrived about the same time so we were all on the first crossing and spent the day together on the island..
Again, if we go ahead with this it may be worth considering car-shares if a number of people are travelling to and from roughly the same areas of the country (though as I've stated previously I'm driving from Cork the night before and driving back the day after).
So, is anyone interested, or does the cost / logistics of getting there form a stumbling block to getting something like this organised?